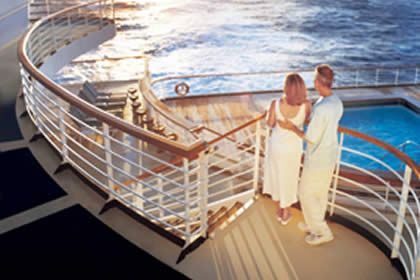 Princess Cruise Lines
Since its famed introduction to the world as "The Love Boat" in 1977, Princess Cruises has been synonymous with cruise vacations, especially in regards to a Caribbean cruise. Over the past 30 years, Princess has also become renowned for personalization in every aspect of your vacation. From an attentive staff trained to make your every wish a reality to shipboard features designed to give you the specific style of vacation you want, Princess Cruise Line is all about choice.
The Cruise Personalizer gives you an advantage over other cruise vacations because you can input your specific likes and dislikes. Princess Cruise Line allows you to reserve shore excursions up to 120 days in advance with the Cruise Personalizer so you're able to secure the most popular adventures before they are full.
In addition, you have your choice of the cabin type you'd like; and with Princess Cruise Line's "more balconies" concept, you have the luxury of a balcony with virtually any size cabin at an extremely affordable price. book now for the best bargains.
Princess Cruise Line's Personal Choice Dining is another added bonus. Pizza at midnight? Steak and lobster at sunset? Choose from a wide range of fabulous dining options and eat when and where you want. The formal dining room is available for those who prefer to dress for a sophisticated dining experience.
Princess Cruise Line includes the following ships:
Caribbean Princess
Pacific Princess
Coral Princess
Royal Princess
Crown Princess
Ruby Princess
Dawn Princess
Sapphire Princess
Diamond Princess
Sea Princess
Emerald Princess
Star Princess
Golden Princess
Sun Princess
Grand Princess
Tahitian Princess
Island Princess
Three classes of ships can be found in the Princess fleet from the Grand-class (accommodating over 2500 passengers) to the intimate Explorer-class with fewer than 700 passengers. Onboard these state-of-the-art vessels, you can tour the world. Princess Cruise Line offers one of the most diverse and exceptional selections of itineraries available; it is no wonder Princess consistently wins awards for its ships, itineraries, safety, service and more.
Chase zebras on an up-close wildlife safari in Africa, thrill at the ancient marvels in Greece or bask in the warm breezes and glowing sunshine of Hawaii. Princess Cruise Line delivers destination packages on all seven continents. If you can dream of it, Princess Cruise Line can take you there; our Caribbean cruise is one of the most popular destinations.
In between ports of call, you and your family will stay plenty busy with a variety of freshwater pools, scuba certification, basketball, volleyball, golf simulator, dance classes, cooking demonstrations, casinos, Broadway-style shows and more.
For the best deals, call us now to book your Princes Cruise Line vacation. You'll find incredible offers to awe-inspiring destinations that make for a vacation you won't soon forget!