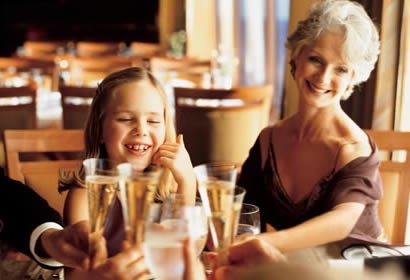 Holland America Cruise Line
Elegant. Attentive. Adventuresome. Holland America Cruise Line consistently raises the standard when it comes to experiencing carnival cruises. From white-gloved stewards who provide discreet, unobtrusive service to accommodations that are 25% larger than other ships in the same category, Holland America Cruise Line pampers you beyond your wildest dreams.
The entire staff anticipates your every need and fulfills them far above your expectations. You'll find premium enhancements on Holland America Cruise Line ships that are not found on other vessels including plush Euro-top mattresses, top-quality cotton bed linens, plush towels and bathrobes, massage showerheads and more.
These are just a few reasons Holland America Cruise Line is consistently rated among the world's best carnival cruises in the Condé Nast Traveler Readers' Choice Survey. In addition, the "Best Cruise Value" designation has been awarded to Holland America Cruise Line.
With thrilling, adventuresome itineraries to many of the most exotic and intriguing locales in the world, Holland America Cruise Line puts the world at your doorstep. From always popular Caribbean cruises to the mystery of the orient to outback adventures in Australia & New Zealand or the frozen wonderland of Antarctica, Holland America Cruise Line is your expert guide to an entire world of exploration and relaxation. Book your cruise vacation now for the best deals.
Holland America Cruise Line offers a diverse range of activities that are consistent across their ships: fitness workouts, art tours and wine tastings, for example. In addition, tea is served each afternoon. Evening entertainment includes many options, such as dancing, movies and Las Vegas-style revues.
Holland America Cruise Line includes these ships:
Amsterdam
Ryndam
Eurodam
Statendam
Maasdam
Veendam
Nieuw Amsterdam
Volendam
Noordam
Westerdam
Oosterdam
Zaandam
Prinsendam
Zuiderdam
Rotterdam
Book your amazing journey onboard one of Holland America's ships today for the ultimate in attentive service, plush accommodations and adventures filled with a lifetime of memories.