Royal Caribbean Vision of The Seas


Vision of the Seas' thousands of windows showcase the world's most memorable coastlines and ports. Whether you're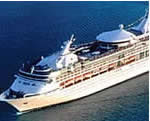 cruising the Inside Passage or docked in Cozumel, you'll never lose sight of the reason you came aboard. The 2,435-guest Vision of the Seas has beautiful onboard amenities too. There's the very soothing ShipShape® Day Spa, two pools, six whirlpools, and the Masquerade Theatre, which features nightly entertainment, like contemporary musical stage productions. And that's just the beginning of these cruise vacations.
Activities
There is never a dull moment on the Vision of the Seas cruise ship. From sunrise to sunset and around every corner, there's something exciting for you to do on a Royal Caribbean vacation. Onboard, try the rock-climbing wall, or shoot some hoops on the expansive Sports Deck. How about a workout or a relaxing massage? Better yet, try your luck at Caribbean Stud Poker, attend an art auction, or turn it out dancing in a nightclub. There are even supervised activities for kids. And on land, Royal Caribbean offers shore excursions for everything from glacier trekking in Alaska to wine tasting in Tuscany. Best of all, every experience is delivered with the unique Gold Anchor ServiceSM.
Destinations
Royal Caribbean Cruise Line visits over a hundred ports of call, in some of the world's most breathtaking locations. From the rugged beauty of Alaska and Canada/New England to the charm of Europe and the lush landscapes of Mexico, Hawaii, the Caribbean, the Panama Canal, Bermuda, and the Bahamas.
Royal Caribbean Cruise Line's shore excursions will take you on adventures that you've only dreamed of. Over snow and sand, through air and sea, up mountains and along fjords, and for the best of both worlds, there are Royal Caribbean Cruise Line cruise tours - a combination of an amazing cruise vacation and a land tour to the places a cruise ship just can't go.
Book your Vision of the Seas cruise today with Cruise Vacation Center. Call us now at 800.803.7245/914.337.8500 or book online.